FUN FACTS ABOUT APPLES
Two pounds of apples make on 9 – inch pie.
2,500 varieties of apples are grown in the United States.
7,500 varieties of apples are grown throughout the world.
Apples are fat, sodium and cholesterol free.
A medium apple is about 80 calories.
Apples ripen 6 to 10 times faster at room temperature than if they were refrigerated.
Don't peel your apple. Two-thirds of the fiber and lots of antioxidants are found in the peel. Antioxidants help to reduce damage to cells, which can trigger some diseases.
National Apple Month is the only national, generic apple promotion conducted in the United States. Originally founded in 1904 as National Apple Week, it was expanded in 1996 to a three-month promotional window from September-November
25% of an apple is air, which is why they float.
The largest apple ever picked weighed three pounds, two ounces.
The apple tree originated in an area between the Caspian and the Black Sea.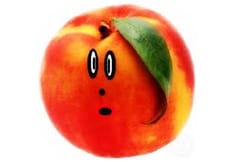 FUN FACTS ABOUT PEACHES
Peaches were once known as Persian Apples
August is National Peach Month
"You're a real peach" originated from the tradition of giving a peach to the friend you liked.
Peaches were mentioned as early at 79 A.D. in literature.
There are over 700 varieties of peaches – some Chinese variations are even flat like hockey pucks.
In China the peach is a symbol of longevity and good luck.
1565 is the starting date of the first peach orchard in Florida.
Nectarines are just peaches without the fuzz.
"Free Stone" peach just refers to how the flesh of the peach separates from the pit.
Peaches are the third most popular fruit grown in the United States
Peaches are a good source of Vitamins A, B and C. A medium peach contains only 37 calories.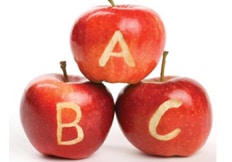 FUN ALYSON'S FACTS
At Alyson's we have one single apple tree with 20 varieties of apples on it. This was achieved using a technique referred to as grafting.
Largest apple picked at Alyson's was a Fortune weighing in at just less than two pounds.
Largest Peach harvested at Alyson's weighed slightly over one pound.
Orchard Manager, Homer Dunn, previously owned an apple orchard in Westminster, VT. One harvest Homer discovered a mutated McIntosh apple in his orchard. After tasting this new fruit and deciding it was worthy of its own name, he named the fruit 'Andrea Star', after his wife. Years later Homer decided to leave his orchard. Before he left he took scion wood from that 'Andrea Star' tree and brought it with him to Alyson's Orchard. In the years since he left his orchard behind it has been completely cut down, leaving the only existing fruit bearing 'Andrea Star' tree in the world at Alyson's Orchard.