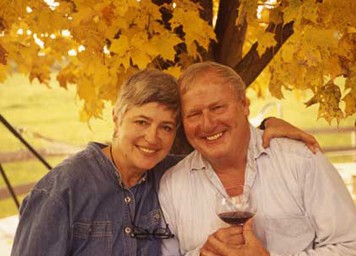 Bob Jasse and his wife, Susan, created Alyson's Orchard in the 1980's from the ground up.  Bob discovered the land while flying over the region on his way to a skiing holiday with his family.  Struck by the setting's natural beauty, the former biologist and former CEO of a high-tech firm immediately understood the opportunity he saw below.
In a 1995 interview with The Boston Globe, Bob explained why Alyson's Orchard's land was such a great discovery. "It was virgin ground. It never had apples," he said, "This land is a drumlin, which is a unique feature. It's the remainder of earth left by glaciers that pick up earth as they move."  The rich soil the glacier left behind nurtured not only the Jasses' fruit trees but the foundations of a community that has grown  up around them.
Alyson's Orchard was named in memory for the youngest of Bob's seven children, who died as an infant. Bob Jasse passed away in 2008, but his legacy lives on through his wife's stewardship. Everyone who visits Alyson's Orchard marvels at its natural beauty and everyone who enjoys a freshly picked apple honors his vision.
Today, Alyson's is one of the finest heirloom apple orchards in North America, featuring over 50 varieties of apples, along with berries, peaches, grapes, pears and plums in season. You can share the bounty of Alyson's harvest by visiting our farm stand or satisfy your adventurous side by picking your own fruit. Besides offering delicious fruit, Alyson's farm-stand offers unusual gifts and local products that capture the essence of New England.
Alyson's Orchard is also a popular location for destination weddings.  Alyson's offers multiple wedding sites with the seclusion, elegance, and natural perfection every bride deserves on her wedding day.  Robert's Hall is the finest wedding facility in the region. Equipped with a full professional kitchen and featuring distinctive apple wood and slate floors, the Orchard Room within Robert's Hall is a picture-perfect venue for wedding receptions.
The Orchard Room is also an ideal location for hosting a wide variety of special events as well as hosting corporate off-site retreats.  Alyson's Orchard offers three different lodging experiences to accommodate wedding guests, individuals on retreats, families on vacation or anyone else who wants a relaxing, unique experience in the heart of New England.
We invite you to share in the natural beauty of Alyson's 450 acres of trees, lawns, wildflowers and swimming ponds. Come experience Bob and Susan Jasse's creation for a day, a weekend or for an extended holiday. No matter your reason for visiting, you will soon discover that Alyson's Orchard is truly a magical place!