SUSAN H. JASSE
Owner & CEO of Alyson's Orchard
Susan founded Alyson's Orchard with her husband, Bob, in the 1980s. She used her experience as a trained chef in Boston to establish the Wedding and Event component of the business. Since Bob's death 2008, Susan has assumed the role of CEO and President of the Orchard. She oversees the staff and financial operations.
CAROLEE (KELLY) LE ROY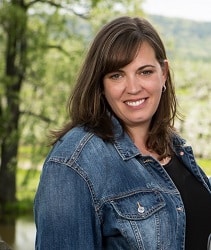 Manager of Events & Lodging
Kelly has worked in the wedding industry, in some capacity, for over 10 years. Before coming to Alyson's, she also worked in management for two Fortune 500 companies. Kelly enjoys every aspect of event planning and strives to make each event a memorable and special celebration. If you'd like Kelly to help you with your Wedding, take a look at our Wedding Info
FRAN IMHOFF
Farm Stand Manager and Marketing
With an extensive background in event planning, Fran assisted couples with their weddings at Alyson's Orchard from 2008-2019. Having now passed this position on to Kelly LeRoy, she has taken on the role of Farm Stand Manager and also handles Advertising and Marketing for the Orchard. Fran was the manager of Berlin Orchards in Berlin, MA for 8 years, and she spent 10 years of her career working for the Massachusetts Horticultural Society as the Show Coordinator of the New England Spring Flower Show in Boston, MA.
HOMER DUNN
Orchard Manager
Homer is a skilled and passionate orchardist who has dedicated his entire life to growing wholesome apples. He managed a pruning crew for Allen Bros. starting when he was 20, and subsequently ran his own crew throughout New England. In 1982 he planted his own family apple orchard in Vermont, and came to Alyson's in 2003. Homer proudly oversees the cultivation and harvesting of Alyson's fruit.